Enjoy our dishes using local seasonal foodstuff.
DINNER INFORMATION
[ NOTICE ]
*At the restaurant, we will strengthen further infection prevention measures so that everyone can enjoy it with confidence as below;

We will limit the number of people who can enter the restaurant and will guide you seat with a space between other seats.

**Depending on the situation, it may be changed and we may guide you.

In addition to the above, please note that we may change the business contents and operate it with the safety of guests and our staff members as the top priority.

Sorry for this inconvenience.
Open Hours 18:00 - 21:00
(Limited 120 minutes) /
Last Entry 19:30*Up to 120 minutes for your meal time.
*Please note that guests who check in after 19:30 will not be served dinner, and no refund will be given.
*Open hours may change without prior notice.
CUISINE 1

Premium Course/ EPUY エプイ / Chef's selected 11-dishes Dinner

A high rank premium course that cooked by chef's selected foodstuffs.
Dishes theme is "enjoying dainty food produced in Onuma 50 miles", cooked by locally grown vegetables and the seafood suburbs from Hakodate area.
CUISINE 2

Seasonal Full Course/ PIRIKA ピリカ / Creative cuisine 10-dishes Dinner

Featuring a superb selection of only the finest foodstuff be selected by the chef make the super the top-class course meal.
Special course menu for vegetariansEPUY offers Special course menu for vegetarians.
If you would like to change regular dinner menu to Special menu, please let us know at least 5 days before your arrival.
The special menu for vegetarians can not be server without a reservation.
EPUY Cooking Policy for vegetarians

・We do not use chemical seasonings and seasonings including alcohol.

・Our kitchen and cooking utensils are not exclusive to vegetarians.

・We carefully make sure that food and seasonings contrary to this policy do not get mixed in the cooking process.

・We will respond as much as possible some special offer due to vegetarian type, please order it in advance.

・We also offer alcoholic beverages, meat and fish dishes in regular menu.
Details of private roomWe offer 4 types of private room, which can provide maximum
for 4 - 10 persons using style.
*Advance reservations are required to use private rooms.
We accept advance bookings by phone or e-mail.
Wine Cellar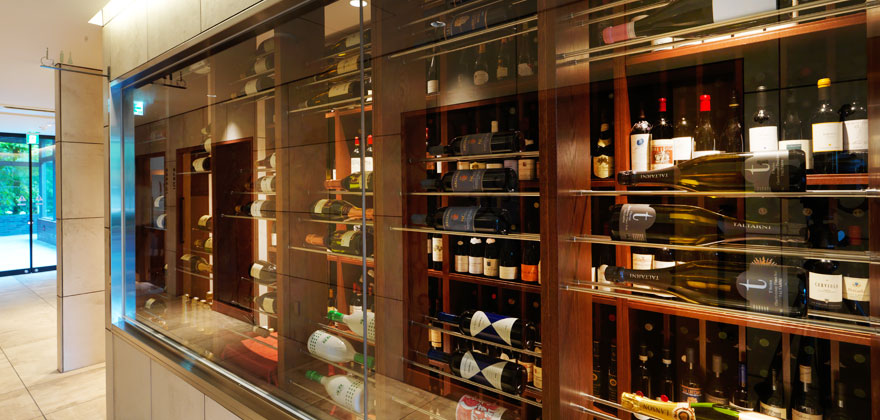 Our restaurant wine cellar houses a selection of vintage wines from all around the world,
all carefully chosen by our sommelier.
Please sample and enjoy them with your meal.