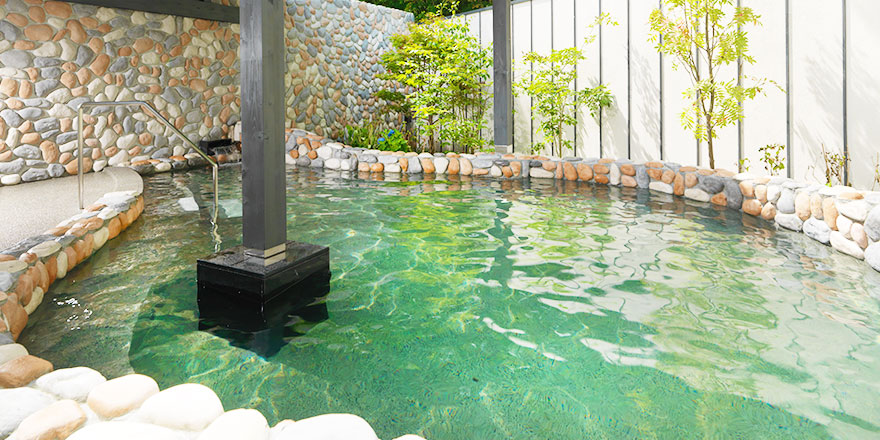 Public open-air bath where you can feel the Onuma wind
The public bathing facility includes an open-air hot spring bath from which you can experience the Onuma wind.
Enveloped in the Onuma nature, please relax and unwind mind and body.

Opening times

12:00 - 10:00 the following morning

*The bath is unavailable in the time slot from 03:00 to 03:30 or from 10:00 to 12 noon the following morning for cleaning.

*The facility does not include an indoor bath - only an open-air bath. Washing places are available.

*The men's bath features a dry sauna, and the women's bath includes a mist sauna.

*Our hotel prepare a Big towel and a hand towel.

*The public hot spring segregated into "male" baths and "female" baths, have not private bath room could be rent.

*Please note it in advance that we cannot accept to bring towels in bathtub and also wearing any clothes or swim wear, please use our public onsen for naked style without any clothes.

*We are sorry for inform you that guests with tattoos may not use our public hot springs.

Amenities

Shampoo
Conditioner
Cosmetics
Hairdryer
Private Baths
Transforming the atmosphere, we offer you two private baths. Soothing your bodily fatigue in a gentle bathing experience.
Slowly enjoy every moment of your private bathing experience.
Aoyu Siwnin [Siwnin]

Kuroyu Kunne [Kunne]
Opening times

12:00 - 09:00 the following morning

Advance booking essential

*The bath is unavailable in the time slot from 10:00 to 11.30 the following morning for cleaning.

*We present you with the key to the private bath in exchange for your guestroom key.

*In Kuroyu only, a hot waterfall shower can be used.

*Our hotel prepare a Big towel and a hand towel.

*Please note it in advance that we cannot accept to bring towels in bathtub and also wearing any clothes or swim wear, please use our private onsen for naked style without any clothes.

Amenities

Shampoo
Conditioner
Cosmetics
Hairdryer

Price